The Open Ceramics Awards held at the Quarry Arts Centre are now the Quarry Ceramics Awards!
Entries Close July 31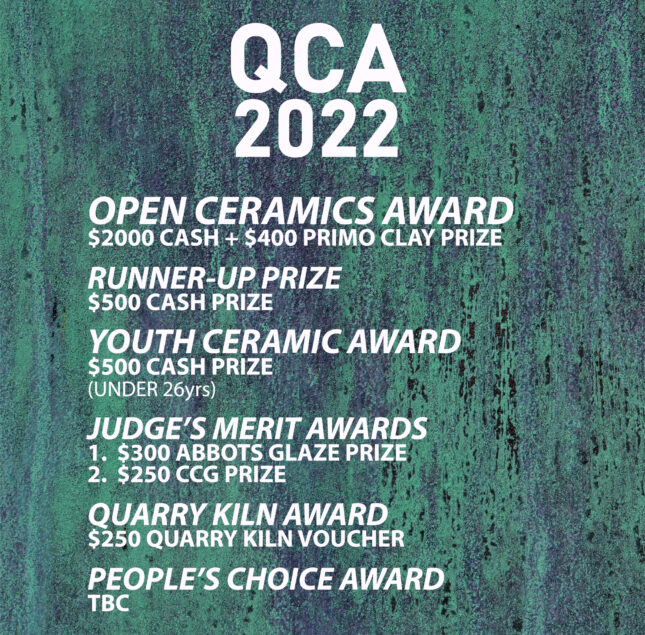 A Quick History of the Quarry Ceramics Awards
A ceramics awards of some kind has been running in Northland for 20 years. For the first 15 years it came under the name of the 'Northland Potters Award'. This was started by Susie Leigh Rogers as part of an initiative with New Zealand Potters to celebrate local ceramics artists. This event was for Northland potters only and was a $1000 acquisitive award sponsored by the Whangarei District Council. You can see the pottery acquired by the WDC during this time in Forum North and Botanica Gardens.
In 2018 the coordination of the Awards were handed over to the Quarry Arts Centre. The awards were opened up to be a National Award named the "Open Ceramics Award", also $1000 top prize. In 2022 the name changed to "Quarry Ceramics Awards" with additional awards added and the prize pool expanded.
Quarry Ceramics Awards 2022
The Annual Quarry Ceramics Awards are hosted by the Northland Craft Trust here in the Yvonne Rust Gallery. The Quarry Ceramics Awards is a National Level Competition. The category is "Open", meaning all styles of ceramic art are welcome from across New Zealand as long as they are predominantly made from ceramic materials. Each year a notable guest judge is invited to judge the competition.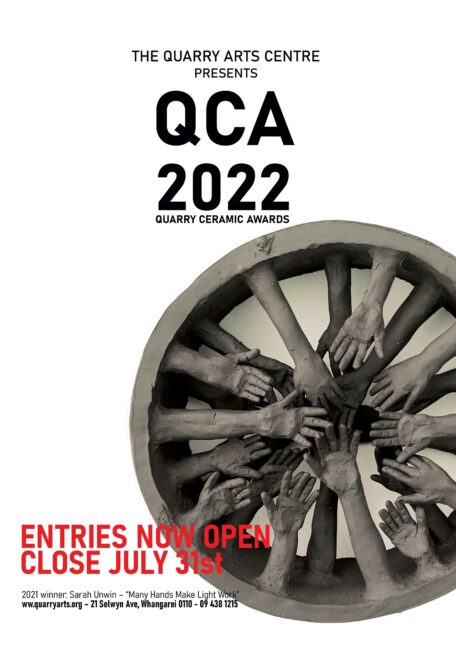 Terms and Conditions and Entry Form
Thinking about entering the Quarry Ceramics Awards for 2022? Click below to read the Terms and Conditions, and Entry Form for your entry. Note, the entry fee is $30 this year. If you want a paper form to fill in come into the Quarry Arts Centre.
IMPORTANT DATES for 2022
31st July – Entries Close
7 August – Acceptance letters
31 August – Last day for accepted pieces to arrive
23 September – Winning Announcements and Exhibition Opening
Exhibition duration – Friday 23 September – Saturday 29th October
Awards for the Quarry Ceramics Awards 2022
These awards are "open" meaning there is no criteria for entries – anything goes, small, large, vessel, sculpture. Please note, this rule will slightly change for the 2023 competition.
Open Ceramics Award Winner
Top Prize – First Place.
Chosen and awarded by Judge only.
Open Runner Up
Runner up to Ceramics Award Winner
Chosen and awarded by Judge only.
Judge's Merit Awards
Works with merit that have caught the Judge's eye.
Chosen and awarded by Judge only.
Youth Ceramics *NEW*
25 and under
Chosen and awarded by Judge only.
Quarry Kiln Award *NEW*
A new award is part of the Quarry Ceramics Awards 2022. This award will be given to a Northland emerging artist of merit to help continue to pursue their passion in ceramics.
Winner gains the use of the Quarry Kilns, up to $200 in value.
Prize will be awarded to a Northland artist who is able to access the Quarry Kilns.
Awarded by Quarry Staff.
People's Choice Award *NEW*
By vote – details need to be worked out how exactly to do this, eg google forms can stop multi-entries.
UPCOMING: Changes for the 2023 Awards
In 2023 the Quarry Ceramic Awards entrants will be challenged in a competition of small-scale ceramic artworks.
In the age of growing consciousness around the environmental impact and dwindling resources and space, we thought it current to focus the QCA on the precious, ecological, quality over quantity that the intimate nature of a smaller artwork can bring.
What is the essence that a small object can bring to a space? In 2021 both the 'Open Award Winner' and 'Runner Up' were in this small size category. In 2023 we will challenge entrants to enter works that are under 30cm x 30cm x 30cm in dimensions.
With a whole year to plan we are excited to see what the ceramics community of New Zealand come up with!