The Great Plate '21 Fundraiser opened Thursday 29th July to help raise money for the Quarry Arts Centre by participating on the auctions.
Trademe Auction Link:
https://www.trademe.co.nz/Members/Listings.aspx?member=3023574
Auction closes on Sunday 8th August from 3pm until approximately 7pm across 112 plates.
Featuring 100+ local and international artists, including Sally Spicer, Monica Krey, Oodee Eilat, M Francis McCarthy, Jin Ling and Greg Barron, Chris Dunn, Selenta Orr, Myo Beets, Anna Scott-Davidson, Julia Newland, Dulcie Draper, Maude Cook-Davies, Kathryn Barry, Maureen Baker, Carol Robinson, Deborah Robertson, Rosy & Rich, Karen Irwin, Olivia Garelja, Lynda Bell, Dell Pryor (2020 top seller), Marilyn Wheeler, Alex Moyse, Aru Singh, Vjekoslav Nemesh to name a few!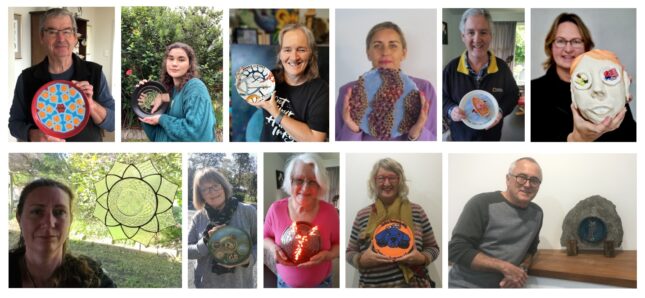 The Great Plate Annual Fundraiser for the Quarry Arts Centre is happening once more in July 2021.
Around 100 artists are supporting the fundraiser this year, donating their time and resources to design plates that will sell via auction. Each plate is a unique piece of artwork, made by mostly Northland artists, with a few special guests included.
"This year, the well-known fantasy author and tv producer Neil Gaiman has designed plates for Great Plate '21", says Great Plate coordinator and gallery manager Hannah Mitchell. "He is in New Zealand at the moment, and I was delighted when he replied to my suggestion that he be involved with a resounding yes."
Neil Gaiman is an internationally awarded author, well known for his graphic novel series, Sandman, and dozens of books, (Coraline, The Ocean At The End Of The Lane, Neverwhere). Many of his adventures have been translated to movie and tv adaptations such as Stardust, American Gods, Mirrormask and Good Omens. He writes for all ages, and has children's, young adult and adult books and many of them can be found in our Whangarei Libraries.
Neil has designed his own plate featuring a fantastical moon, and shared a design with his five-year old son Ash – an upside-down ginger-bread man. Both are signed by Neil (and Ash) on the back of the plates.
Like Neil, 60+ artists have created artwork on the plates thrown by local potters Mike Regan, Marilyn Wheeler and Israel Dawson and 30+ artists have made their own 'plate' (sometimes not a plate).
All Great Plates will be listed on TradeMe from Thursday 29 July, when the bidding will open, with the pieces will be on show at the Yvonne Rust Gallery. The auction will run for 10 days, with bidding ending on Sunday 8th August. Each plate auction will end at a different time and might extend depending on the popularity of the art.
"With a high calibre of artists and a large audience waiting to bid on them we recommend you have all your notifications on and keep an eye on the closing times of your desired plates. No doubt there will be a bidding war or three in this fundraiser", says Hannah.
The Quarry Arts Centre has a long reputation of nurturing the creative spirit of Northland. The Quarry is directed by the Northland Craft Trust a registered charitable trust (CC25737). All funds this year will go into the continued running of the Quarry Arts Centre.
The Great Plate fundraiser helps to keep the Quarry Arts Centre in playing their role; supporting local artists, showcasing the arts and creating accessible art programs for everyone.
The Quarry Arts Centre is immensely grateful for all the "Participlaters" – the throwers of plates, the artists who contribute their talents in design and all the people who bid and win the plate auctions. It all enables this 40-year-old arts centre to continue to hold a special place in Whangarei and in the hearts of artistic community.
Check out the Great Plate '21 opening night, at the Yvonne Rust Gallery, Thursday 29th July at 5pm (21 Selwyn Avenue, Whangarei) and the auctions on TradeMe – search "great plate" at www.trademe.co.nz