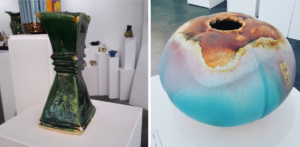 Picture credits:
Best Open Masters 2019 winner: Richard Parker (left)
2019 Merit Award: Greg Barron (right)
The Northland Craft Trust is delighted to present the third annual Open Ceramics Award 2020. This is an opportunity for recently made ceramics to be exhibited in New Zealand's only National Level Competition this year.
This competition will showcase the unique talents and techniques of emerging and master New Zealand ceramic artists in two categories. The main category "Best Open Masters" will award $1000 for the top prize. A second category has been added to the award this year. "Best Open Emerging" welcomes artists who are exhibiting ceramics in a National Show for the first time, with a top prize of $500.
The judge is a well-known ceramics artist, which will be announced closer to the award time. Applications will go through a selection round with photographic images only. This will be followed by an invitation to enter the physical works for the competition, which will open to the public on Friday 6th November.
Do you have something creative, beautiful or cutting-edge ceramics made in the past year? Consider submitting to the Open Ceramics Award 2020. Find out more and apply to be part of the Open Ceramics Award 2020 by reading the information document below or visiting the Quarry in person. Online and paper submissions are acceptable but must be delivered to the Quarry Arts Centre before 25th September.
This event will go ahead at every level of Covid-19 responses, as we can move the exhibition, judging and sales online.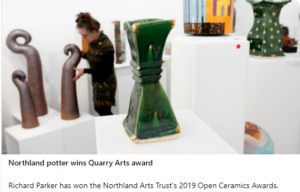 Watch this great video from the 'Northern Advocate', 30 September on the 2019 awards and winners:
Entry Forms, Terms and Conditions
Online Open Ceramics Awards Entry Form
Printable Open Ceramics Awards Entry Form