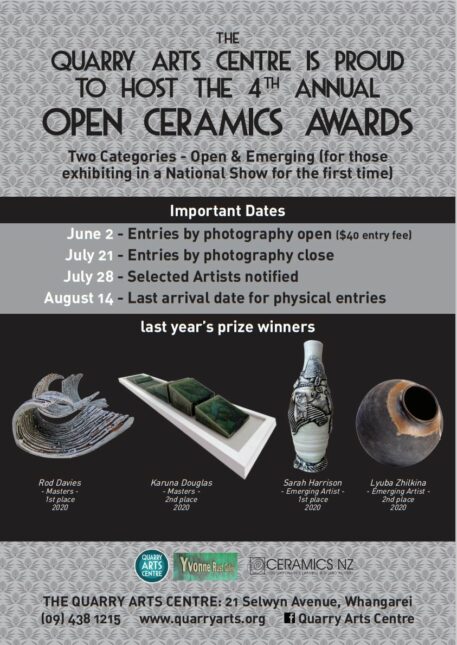 The Annual Open Ceramics Awards are hosted by the Northland Craft Trust and held at The Yvonne Rust Gallery, Quarry Arts Centre, Whangarei, Northland.
This year's event and exhibition will open on Friday 3rd September, where the winners will be announced.
The Open Ceramics Awards 2021 is a National Level Competition and has two categories.
Best Open Masters
Best Open Emerging
All styles of work are acceptable for entry providing the work is predominantly made from ceramic materials, or substantively addresses ceramic culture and practice.
ENTRIES ARE NOW OPEN
Clay artists and ceramicists can enter their pieces to be selected for the judging round now.
Online entry form available here:
https://forms.gle/mVjCFLhtgnpcSiVH9
The submission forms are now open and close on July 21st 2021.
All entries into the award must agree to the guidelines and sign the terms and conditions.
Terms and conditions are available here:
https://quarryarts.org/wp-content/uploads/2021/05/OCA-2021-Terms-and-Conditions.pdf
ENTRY GUIDELINES SUMMARY
One entry per entry fee.
Maximum of two entries per person.
Entered works to have been made no earlier than January 2020 and have not featured in a National competition before.
The category is 'Open', all vessels, sculptures and other creations welcome.
"Emerging Artist" is defined as an artist exhibiting ceramics in a National Show for the first time.
All entries must be accompanied by with a fully completed entry form and payment.
All deadline dates and judges decisions are final.
SUBMISSION DETAILS
Each submission must be accompanied with a completed entry form which includes:

Three images of the work – high quality, high resolution which can be used in a Gallery catalogue.
Dimensions of the work
Assembly and display instructions
If for sale, and sale price
Entry fee paid by 21th July.
Artist bio and description of work

We will notify artists of their selection by Wednesday 28th July.
If selected for the Judges round work must arrive to Quarry Arts Centre, by 4pm Wednesday 11 August.
IMPORTANT DATES
Submissions are now open
Wednesday 21st July – Selection round 1 Deadline – online/photos. All entry fees to be paid.
Wednesday 28th July – Entrants will be notified regarding selection to Round 2
Saturday August 14th – Deadline 4pm for selected work to be delivered to QAC.
Friday 3rd September – Exhibition opens. Award winners announced. Sales open.
3-30th September – Exhibition runs at the Yvonne Rust Gallery.
Friday 18th October – All unsold items aim to be returned.