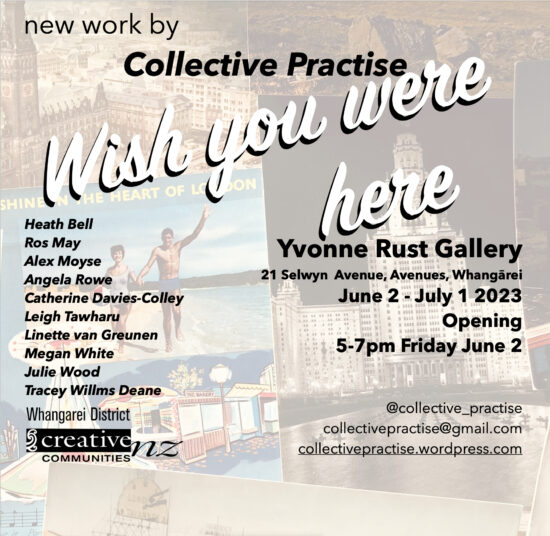 Wish you were here is a group exhibition featuring new works by members of the art group Collective Practise. Each artist has created work around the 'postcard' – exploring ideas around place, landscape, nostalgia, relationships, hopes and reality. The exhibition includes a range of media; paintings, drawings, prints, ceramics and textiles.
Leading up to the opening of the exhibition, real postcards have been sent to the Yvonne Rust Gallery and between the artists, drawing attention to the experience of the object in hand and the slowing down of time between communications.

As part of the exhibition, Collective Practise offers a series of free workshops (fully booked), an artists panel discussion and an opening night.
Collective Practise is; Heath Bell, Catherine Davies-Colley, Ros May, Alex Moyse, Angela Rowe, Leigh Tawharu, Linette van Greunen, Megan White, Julie Wood and Tracey Willms Deane.
Opening: 5-7pm Friday 2nd June – Duration: 2nd June to the 1st of July 2023
Email: collectivepractise@gmail.com
Instagram: https://www.instagram.com/collective_practise/
Facebook: https://www.facebook.com/collectivepractise
This exhibition and related events has been made possible by the generous support of Whangārei District Council and the Creative Communities Scheme.