Authentic Kintsugi with Aiko Fukumoto – Courses available now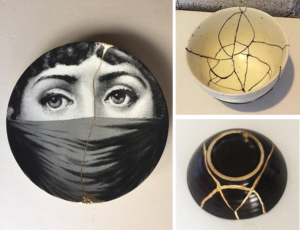 This traditional Japanese art uses a precious metal – liquid gold, liquid silver or lacquer dusted with powdered gold – to bring together the pieces of a broken pottery item and at the same time enhance the breaks. The technique consists of joining fragments and giving them a new, more refined aspect. As such the mended cracks symbolise an event in the life of an object, which, rather than causes its destruction have contributed to unique beauty.  An authentic process that uses only traditional materials and techniques.
Here is a recent short video from the BBC:
https://www.bbc.co.uk/reel/video/p08m4bc3/japan-s-ancient-philosophy-that-helps-us-accept-our-flaws
Aiko Fukumoto is a Japanese Kintsugi artist and Qigong instructor who has lived and taught in New Zealand for over 30 years. https://www.facebook.com/kintsugirepairartstudionz
There are two separate courses to choose from:
Kintsugi starting 5th September 2020  LIMITED SPACES!
Kintsugi starting 26th September 2020  OPEN NOW!