About the Exhibition
The Quarry Ceramic Awards for 2023 will open on Friday 13 October 5pm, with Judges Announcements at 5:30pm. These will be also shown live via an online platform. The Exhibition will be on show until Saturday 11 November.
The Exhibition will consist of 40 pieces from around Aotearoa, show-casing the talents of ceramic artists residing in New Zealand. All pieces will be for sale.
SPONSORS AND PRIZE POOL
A huge thank you to our sponsors for the 2023 Quarry Ceramic Awards!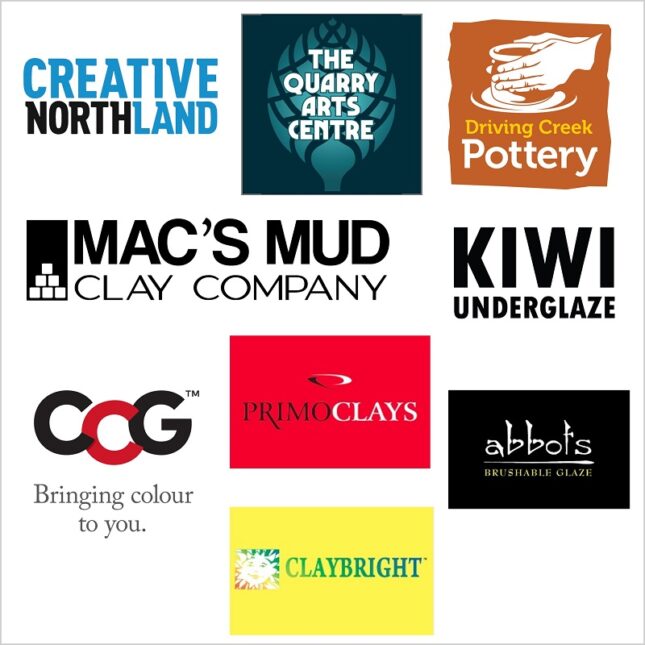 Open Ceramic Award – Top Prize – $2000 in cash and prizes – Sponsored by Creative Northland and the Quarry Arts Centre.
Youth Award (30 & Under) – $600 cash and prizes
Judges' Merit Awards
Macs Mud Prize
A 10kg bag of each of the Mac's Mud Clay Range
Kiwi Underglaze Prize
Set of 20 x 100ml Kiwi Underglaze
Primo Clay Prize
Abbots Glazes Prize
CCG Prize
Claybright Underglaze
Quarry Kiln Award – Up to $500 use of Quarry Kilns
People's Choice Award – 4 week residency at Driving Creek + $1000 to spend on clay, glazes and firings
Join us for the opening night on Friday 13th October to find out who wins!
---
A quick history of the Quarry Ceramic Awards
The Quarry Ceramic Awards are proudly hosted by the Northland Craft Trust and exhibited in the Yvonne Rust Gallery, at the Quarry Arts Centre (Whangarei). The Awards are a National Competition with works accepted from around Aotearoa, as long as they are made from predominantly ceramic. The Awards are "open" meaning there is no criteria for entries – anything goes, small, large, vessel, sculpture. In 2022 communications about the QCA, a size restriction was going to be in place. However, this has been removed, and all sizes are welcome. We welcome the wide-variety of art that is submitted each year.
A ceramics awards of some kind has been running in Northland for 20 years. For the first 15 years it came under the name of the 'Northland Potters Award'. This was started by Susie Leigh Rogers as part of an initiative with New Zealand Potters to celebrate local ceramics artists. This event was for Northland potters only and was a $1000 acquisitive award sponsored by the Whangarei District Council. You can see the pottery acquired by the WDC during this time in Forum North and Botanica Gardens.
In 2018 the coordination of the Awards were handed over to the Quarry Arts Centre. The awards were opened up to be a National Award named the "Open Ceramics Award", also $1000 top prize. In 2022 the name changed to "Quarry Ceramics Awards" with additional awards added and the prize pool expanded.
---